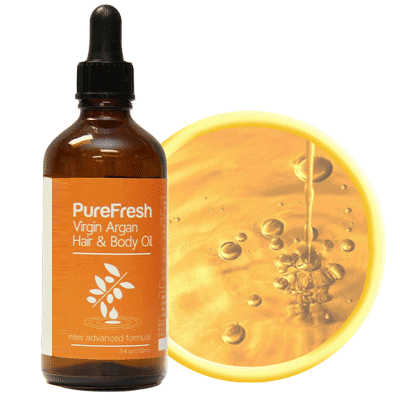 PureFresh Virgin Argan Body & Hair Oil
Regular price $59.99 USD Sale
Argan oil is often referred to as
"liquid gold"
. Its multi-functional properties made it become very popular in skin care and personal care products.
A

rgan oil is almost exclusively produced in southwestern Morocco. Local women cooperatives extract the argan nuts in between two stones and extracted raw oil by hands in the past. It takes 3 days to make 1 liter of oil. Therefore, it is very precious.

T

raditionally, argan oil was used extensively on skin to treat various conditions such as dry skin, acne, psoriasis, eczema, wrinkles, and skin inflammation. It was also used to prevent hair loss and dry hair.

W

ith the improvement in technology, it permits a larger extraction yield of argan oil nowadays. Virgin argan oil is produced by Moroccan women cooperatives and their world-wide marketing activity contributes to the argan forest sustainable development.

V

irgin argan oil is composed of primarily fatty acids, vitamin E (tocopherol), triterpene alcohols, sterols, squalene, ferulic acid, D-7 stigmasterol, polyphenols and triterpene alcohols. Fatty acids are mainly oleic and linoleic acid which contribute to the benefit of argan oil for skin inflammation.
Benefits of organic argan body/hair oil:
Hair:
Hydrates, strengthens, repairs dry, damaged and dull hair
Restores the luster and shine of hair and mends split ends
Calms frizzy ends, add moisture to dry hair
Revitalizes the scalp and hair growth
Body and Nails:
Strengthens and improves fingernail and cuticle health
Helps to reduce cellulite and stretch marks
Reduces skin irritation
Moisturizes your body
Purefresh difference:
Certified Organic by USDA National Organic Program and European
100% Argan Oil
No Fillers
Virgin
Cold Pressed
How to use argan oil?
Body:
Apply anywhere on the body for extra moisture and relief of most skin conditions

Nails and cuticles:
Apply oil to nails to relieve cracking and brittleness. May be mixed with lemon juice for a soaking solution for cracked fingertips and nails.

Hair:
To repair dry hair, split ends or damage from hair color, perms, straightening and other chemical processes, apply lightly to hair and scalp while it is still damp, and repeat daily until conditions improve. Or apply just to your dry ends after your hair is dry.