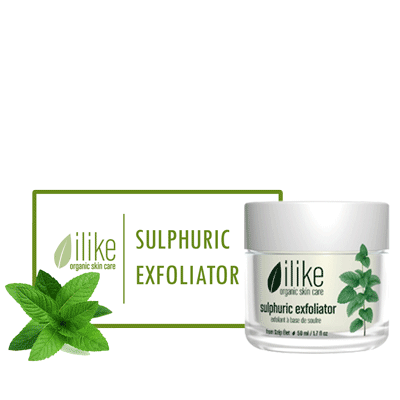 Ilike Gel Mask - Sulphuric Exfoliating
Regular price $48.00 USD Sale
certified organic with no parabens or other synthetics
harvested and processed by hand to ensure delicate plant structure not damaged
cold processed fruits, vegetables and herbs converted into pulps not extracts! to retain the full concentration and power of the herbs
the original made in Hungary for over 50 years
This very unique soft treatment from ilike organic skin care gently exfoliates, hydrates and smoothes the sensitive, problematic, inflamed, dehydrated and mature skin. So gentle, that it can even be used to clarify sunburnt or rosacea skin, or the eye area, and even solves ingrown stubble problems on men. Due to its high sulphur content it strengthens the keratin layer and effectively treats fungal infections. With its organic herbal oils it also eliminates surface wrinkles and cleans off easily.
Skin Types / Skin Conditions:
sunburn
dry skin
skin sensitivity
acne, seborrhea
rosacea
wrinkles
chloasma, age spots or other blemishes
male skin conditions
inflamed follicles after waxing or shaving
oil- and water deficient sensitive skin
sunburn
problematic skin
mature skin types
eye area (around closed eyes!)
for men facials in case of stubble rash
Effects:
gently removes the dead keratin cells
hydrates
strengthens the keratin layer due to its sulphur content
anti-inflammatory effect
eliminates fine lines
smoothes
slightly dries
Directions for application:
Apply a thin layer of exfoliator to your skin after cleansing and leave on until it dries (7-10 minutes) for optimal results. Gently rub off with your fingertips and remove leftover residue with a damp face towel. Follow with a mask or one of our special treatments and finish with a moisturizer possibly supplemented with a serum.
Spa tip:
great cooling and calming treatment after microdermabrasion! Can be used as a very gentle exfoliator during the healing period of face lifts, chemical peels, laser and other invasive treatments.
Ingredients:
Peppermint Oil, Corn Germ Oil, Honey, Zinc Oxide, Zinc Sulphate, Sulphur