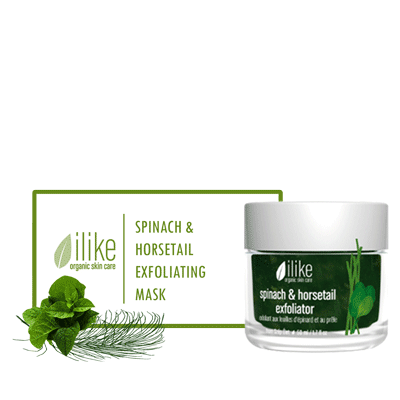 Ilike Gel Mask - Spinach & Horsetail Exfoliating
Regular price $48.00 USD Sale
certified organic with no parabens or other synthetics
harvested and processed by hand to ensure delicate plant structure not damaged
cold processed fruits, vegetables and herbs converted into pulps not extracts! to retain the full concentration and power of the herbs
the original made in Hungary for over 50 years
Quick exfoliating and clarifying mask that gently removes impurities while charging normal to combination skin with essential vitamins, iron and bioflavonoids.
Skin Types / Skin Conditions:
normal/combination skin
oily skin
skin sensitivity
acne, seborrhea
male skin conditions
normal to oily, problematic skin
premature aging
vitamin- and iron deficient (pale) skin
acne, seborrhea
sensitive skin
for face and body
Effects:
softens and removes dead keratin cells
calms and soothes the skin
promotes the natural self-cleansing process of skin
softens the skin
charges skin with vitamins, bioflavonoids and iron
Directions for application:
Apply a thin layer of exfoliator to the face or body in circular motions after cleansing. Leave on for a couple minutes till almost dry, then remove the product by rubbing the skin again using circular motions. Wipe off any residue with a damp face towel or rinse thoroughly with clear water.
Ingredients:
Horsetail, Spinach, Honey, Corn Germ Oil, Peppermint Oil -- Vitamins C, E, H and K, Kaepferol, Quercetin Bioflavonoids, Mineral Salts, Trace Elements.