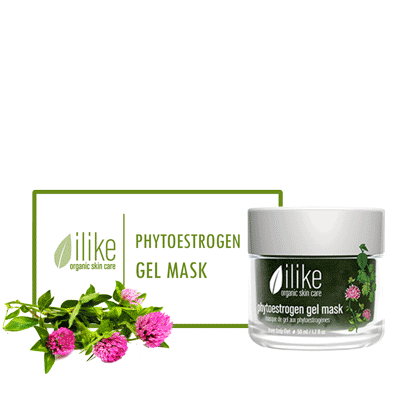 Ilike Gel Mask - Phytoestrogen
Regular price $48.00 USD Sale
certified organic with no parabens or other synthetics
harvested and processed by hand to ensure delicate plant structure not damaged
cold processed fruits, vegetables and herbs converted into pulps not extracts! to retain the full concentration and power of the herbs
the original made in Hungary for over 50 years
This mask has very high phytoestrogen content, slightly stimulates blood circulation, and is used to rejuvenate and increase the elasticity of aging skin with deep layer water deficiency. Apply it as a refreshing, nourishing and elasticizing mask. The result is immediate: the skin becomes rosy, tight, elastic and full of life.
Skin Types / Skin Conditions:
dry skin
normal/combination skin
oily skin
acne, seborrhea
wrinkles
skin with deep layer water deficiency aging, flaccid skin
combination premature or mature skin with estrogen deficiency
skin lacking elasticity
not for teenagers!
Effects:
increases elasticity of the skin
slightly stimulates blood circulation
rejuvenates
nourishes
refreshes
Directions for application:
Apply to cleansed skin over entire face and neck area and leave on for 15-20 minutes for optimal results. Remove with a damp face towel. Finish with serum and moisturizer. Use 1-2 times per week or as otherwise directed. Exfoliation increases the effect of masks.
Ingredients:
Clover, Hop, Flaxseed, Yucca, Honey, Hungarian Paprika, Pectins, Vitamin B2, C and E, Bioflavonoids, Phytoestrogens, Capsaicin, Saponin, Mineral Salts, Trace Elements