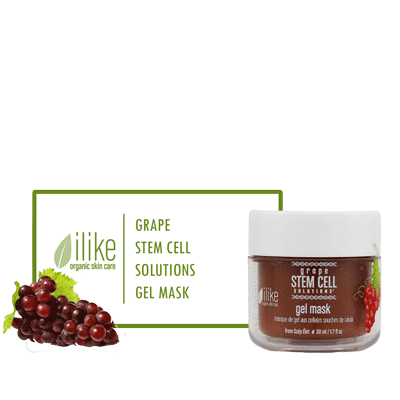 Ilike Gel Mask - Grape Stem Cell Solutions
Regular price $60.00 USD Sale
certified organic with no parabens or other synthetics
harvested and processed by hand to ensure delicate plant structure not damaged
cold processed fruits, vegetables and herbs converted into pulps not extracts! to retain the full concentration and power of the herbs
the original made in Hungary for over 50 years
An antioxidant-rich mask made with a high concentration of grape stem cells to dramatically reduce the appearance of wrinkles.
Skin Types / Skin Conditions:
dry skin
normal/combination skin
skin sensitivity
wrinkles
all skin types, especially premature or mature skin
water deficiency
oil deficiency
loose skin
tired skin
sensitive skin
Effects:
skin feels and looks hydrated and more youthful
Directions for application:
Apply to cleansed skin over entire face and neck area and leave on for 15-20 minutes for optimal results. Remove with a damp face towel. Can be used on sensitive areas such as eye area, neck and décolleté.
Ingredients:
Grape Pulp, Grapeseed Oil, Grape Stem Cells, Grape Skin, Orange Oil, Lemon Oil -- OPCs (Oligomeric Proanthocyanidins), Polyphenols, Phytoestrogens, Kaempherol, Bioflavonoids, Resveratrol, Vitamins A, B, C, E and H, Carotene (Provitamin A), Biosugars, Fruit Acids, Tannins, Mineral Salts, Trace Elements.