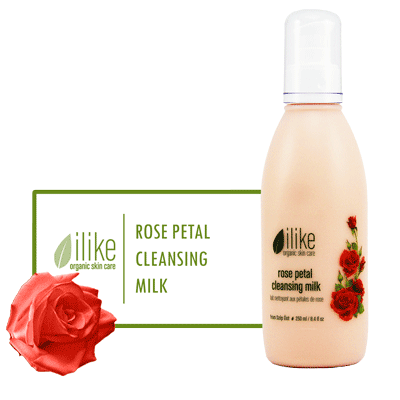 Ilike Cleansing Milk - Rose Petal
Regular price $52.00 USD Sale
certified organic with no parabens or other synthetics
harvested and processed by hand to ensure delicate plant structure not damaged
cold processed fruits, vegetables and herbs converted into pulps not extracts! to retain the full concentration and power of the herbs
the original made in Hungary for over 50 years
This sweet smelling cleansing milk for normal to dry premature, mature skin types does not only remove impurities and make-up, it also recharges your skin. Created for both face and eye make-up removal. Made with hundreds of red rose petals.
Skin Types / Skin Conditions:
Sunburn
Dry skin
Normal/combination skin
Skin sensitivity
Rosacea
Wrinkles
Chloasma, age spots or other blemishes
All skin types, especially premature, mature and sensitive skin
Effects:
cleanses the skin of make-up and pollution
nourishes
regenerates
Directions for application:
Apply a small amount of cleanser over entire face and neck area and massage it in gently for 30-60 seconds moving your fingertips in circular motions, then wipe off with damp face towel or cotton pad. Use it daily as the first step of your skin care regime, followed by a refreshing toner.
Contains:
Rose Petal, Corn Germ Oil, Rose Oil, Quercetin, Bioflavonoids, Tannin, Vitamin E, Minerals, Trace Elements