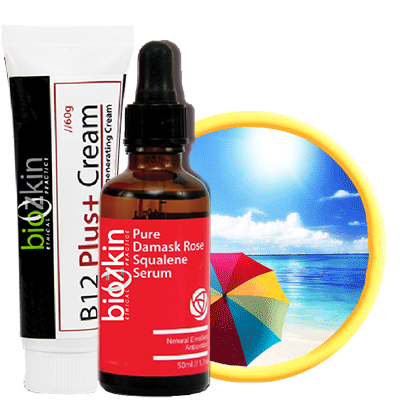 BioZkin B12 Plus+ Cream & Pure Damask Rose Squalene Serum Gift Set
Regular price $95.90 USD $86.31 USD Sale
What is Squalene 
Squalene is one of the most common natural occurring lipid components of human sebum. Our skin contains about 12% of squalene.
Starting from 25 years old, squalene production in our skin starts to decrease. This results in dehydration, fine lines, wrinkles, lack of elasticity and premature aging.
Squalene oil from olive is a highly effective natural emollient and moisturizer- rebuilds the moisture barrier of our skin. It also protects our skin from free radicals damage caused by UV radiation.
The Power of Damask Rose Oil:
Damask Rose oil has powerful effects in toning, balancing and repairing unhealthy dry, dull, sensitive, irritated and inflamed skin.
Our Damask rose is 100% pure and natural oil from Bulgaria. It is produced by steam distillation without the use of any solvent for extraction.
Rose contains very little oil content. About 60 roses are needed to make ONE drop.
Benefits:



Naturally occurring skin component
immediately recognized by our skin: easily absorbable; Highly effective moisturizer and emollient




Rich in antioxidants:
protect skin from free radical damage from UV radiation




Improves skin tone and texture
Regulate sebum production and non-comedogenic: good for acne prone skin

Softens and calms rough-textured irritated skin
such as rosecea,eczema and psoriasis




Powerful fighter to signs of aging
reduces fine lines & wrinkles
Strengthens collagen and capillary vessels walls – restore skin elasticity




Suitable for all skin types
including sensitive, eczema, rosecea, dermatitis, psoriasis, inflamed skin, acne, mature skin
Perfect as a facial moisturizer or an extra booster prior to application of serum or moisturizer
The BioZkin difference:
100% Pure Squalene (from organic olive)
GMO free
Vegan friendly
100% pure & natural Damask rose oil from Bulgaria – pure steam distilled without any solvent
No filler
Texture of BioZkin damask rose squalene:
Non-staining & non-greasy
How to use BioZkin damask rose squalene?



Face care

Use twice daily on cleansed skin. Put 2 to 3 drops into your palm and rub gently. Gently press onto your face, forehead and chin

 




Body care
Can mix a few drops into your body lotion or use as massage oil for your body




Face Primer
Mix a drop to your liquid foundation, then apply as usual. You will get a velvet, moisturized effect.




To Boost The Effects of Your Mask
Mix a few drops in your facial mask before application or put a few drops into your palm, rub gently, and then press onto your face prior to putting on your mask.




Face Massage Oil
Simply use the serum directly as a facial massage oil.




Nail and Hand Treatment
Use after manicure to protect and strengthen the cuticle. Apply to hand and nails at bedtime.
---
BioZkin B12 Plus+ is a multifunctional regenerating cream containing vitamin B12 (methylcobalamin) as the main active ingredient. Methylcobalamin is the most active form of B12. It absorbs very quickly and is immediately ready for use by our body. Unlike cyanocobalamin, no conversion is required.
Quality and Safety Guaranteed
Free of parabens, DEA, MEA, TEA, phthalates, MCI/MI, sulphates & PEG
Clinical grade, safe and gentle
Non-greasy, fast absorption
Baby safe
Kosher certified; ISO certified
Active ingredients are made in a GMP facility
Key benefits of BioZkin B12 plus+ cream
Powerful regenerating effects
Lightens new and old scars from acne, wound and mosquito bite
Good for baby rashes
Effective in chronic skin conditions: eczema or dermatitis (child & adult) and psoriasis
Promotes wound healing
Relieves irritation after shaving and lightens razor scars
What are the benefits of BioZkin B12
PLUS+

cream?
Powerful regenerating effects
for aging skin, dry, dull, and tired skin
Improves elasticity and firms skin

Effective in chronic skin conditions:
eczema or dermatitis (child & adult)1,2 and psoriasis3,4

Lightens new and old scars from acne,wound and mosquito bite

Regenerates sun burnt skin: soothes burnt skin, reduces redness, inflammation and desquamation

Promotes wound healing
Repairs cracked skin
Relieves irritation after shaving and lightens razor scars

Good for baby rashes:
diaper rashes, prickly heat

Smoothens wrinkles and fine lines
Can be used as moisturizer or makeup primer

Deeply moisturizes
and relieves dry and sensitive skin

More'plus' benefits
from: argan oil, shea butter, cocoa seed butter
| | | |
| --- | --- | --- |
| Clinically proven to be safe, effective, and well tolerated | Suitable for all skin types and ages | Perfect for sensitive skin (both face and body) |
Other therapeutics and 'plus' ingredients:
Argan oil, aloe, shea butter, cocoa seed butter for superior moisturizing benefits
How to use vitamin B12 plus cream?
Apply on cleansed area twice daily or as needed.
Key ingredients:
Vitamin B12, Butyrospermum Parkii (Shea Butter) Seed Oil, Aloe Barbadensis (Aloe) Leaf Juice, Theobroma Cacao (Cocoa) Seed Butter, Tocopherol Acetate
References:
1 Pieck C, Stoerb C, Niedner R, et al. Topical vitamin B12- a new therapeutic approach in atopic dermatitis-evaluation of efficacy and tolerability in a randomized placebo-controlled multicentre clinical trial. Br J Dermatol. 2004 May;150(5):977-83
2 Januchowski R. Evaluation of topical vitamin B12 for the treatment of childhood eczema. J Altern Complement Med. 2009 Apr;15(4):387-9
3 Memmel U, Hoffmann M, Hartung J, et al. Vitamin B12 cream containing avocado oil in the therapy of plaque psoriasis. Dermatology 2001;203:141-7
4 Regana MS, Levancini CF, Ortigosa, JS. Topical vitamin B12: evaluation of its efficacy in plaque-type psoriasis. Revista Latinoamericana de Psoriasis y Artritis Psoriasica 2001;3:15-24